Gay Personal Trainer.co.uk: Health Training for your body & mind to perform as nature intended - naturalistic nudity, purely to help men improve physical & mental health.

Personal Training for Transgender Men
Personal training for transgender men - if you identify as a man I can definitely help you with either a clothed or a naked personal training session for any of the following:
A new experience
To get fitter
To increase strength
To increase masculinity (like most clients if their honest!)

Firstly I need to say - as you can see I am not really muscly or overtly manly myself!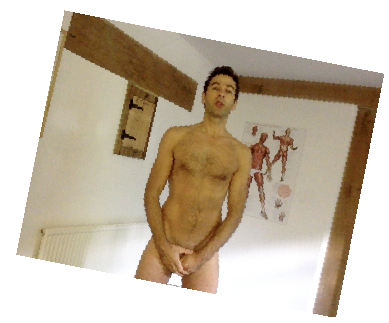 What Masculinity means to you

Masculinity will mean different things to different people. For some it is all about muscles whereas for others it may be a simple mannerism or body movement. Either way fitness training can actually help due to a boost of testosterone - especially if done naked - getting in touch and letting the real you out - with body expression and simple exercise. Should you want more muscles or to look 'masculine' - I am offering exercise as a way to enhance and maybe represent more how you feel inside! I can help with subtle changes whether they be posture related or to do with muscles. I think we just need to be ourselves which a naked exercise session certainly allows for.

This article says it all.
How I may be able to help.
A fair proportion of the training I offer is in fact to help men improve their masculinity in all sorts of ways. In fact a lot of men come to: change their body shape, to help with confidence, some to look more powerful - some to look younger. There is a vast array of improvements that men seem to seek, which means there is no difference in the training as there are so many different reasons. No matter what improvement you would like just be as specific as you like!
Clothed or Naked Personal Training for Transgender Men
The personal training is all about getting you results that you want. Some find this works better clothed, some naked. Naked training is offered to all transgender men and want to get fitter, stronger or any other of the many benefits such as body confidence - just decide if you would like clothed or naked training.
If you identify as a man and would be interested to see how I can help you in any way then please feel free to get in touch.
Don't like the gym?
That means you may like training with me!

They focus upon the whole you - your whole being - if that seems an odd concept, I may not be the trainer for you...

...if you're intrigued, then perhaps I may be of some use to you, your health, fitness and just possibly your maleness and sexualness - whatever that may mean to you.


Options

coming soon (last updated 30th April 2022)


I'm a specialist trainer with extensive medical knowledge– able to help manage and improve many health conditions

please feel free to contact me:

paul@malecoach.com