Gay Personal Trainer.co.uk: Health Training for your body & mind to perform as nature intended - naturalistic nudity, purely to help men improve physical & mental health.

Get Fit With Personal Training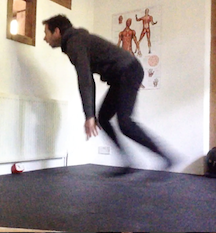 There are so many ways to get fit - that I guarantee you'll enjoy one of them.
Get Fit With A Gay Personal Trainer. It's not all about exercise, your lifestyle can help as much - combining both will give great results for the rest of your life.
Getting Fit Can Be Enjoyable For You

You may want to improve your overall fitness so that you don't get out of breath so much, or to increase your stamina. The exercises needed to achieve either of these will be different. To get the results you want it is important to be doing the right exercise for you and ensure no time is wasted on exercises that will not give the specific results you want.  If the training is geared specifically to you, results can soon follow and you will hopefully want to do more and more - to get more results. Getting fit can be something that you enjoy - there are so many ways to do it that I guarantee we can find something that you'll enjoy.
1 minute May work better For You than 1 hour

1 minute of the right exercise may help you get fit quicker than a whole of the wrong exercise. It can be possible to get fit in as little as a few minutes every day - that really can do the trick. However this form of exercise is not for everyone in which case a slightly longer period may be required.
Getting the right type of exercise for You

It is all too easy to just do standard exercises. Sometimes these may work but sometimes a different exercise or doing it in a different way really can help get the results you want.  There are so many different exercises out there - but they should all be seen as a way to stimulate your body to make an improvement. This is where exercise is no different to medication. You need to be on the right medication to gain a response.
If you do get the correct exercise it is then important that the intensity is correct, just as with medicine, you need the right dose. With medication there are risks of overdose – this is no different in exercise and can lead to injury. If the dose of exercise isn't strong enough then the improvements you are seeking may not be realised. Gauging the correct dose does is the tricky bit - but something that Gay Personal Training is great for. Being in the 'zone' and connecting with your body, without distractions from machines or equipment, means you can soon learn for yourself exactly how to give yourself the right dose. 
Get Fit And Stay Fit

Getting fit can be something that you just do in your everyday life. When this happens you know that you can sustain it for the rest of your life.
Choose to  Get Fit  with Personal Lifestyle Training
Don't like the gym?
That means you may like training with me!

They focus upon the whole you - your whole being - if that seems an odd concept, I may not be the trainer for you...

...if you're intrigued, then perhaps I may be of some use to you, your health, fitness and just possibly your maleness and sexualness - whatever that may mean to you.


Options

I'm a specialist trainer with extensive medical knowledge– able to help manage and improve many health conditions

please feel free to contact me:

paul@malecoach.com

Where