2 Free Naked Fitness Sessions | Bodyweight Exercise
Naked Personal Training for men in London

Naked Fitness training for men using just our body's - for either support or resistance - gives a great workout that's. different, exciting and very effective...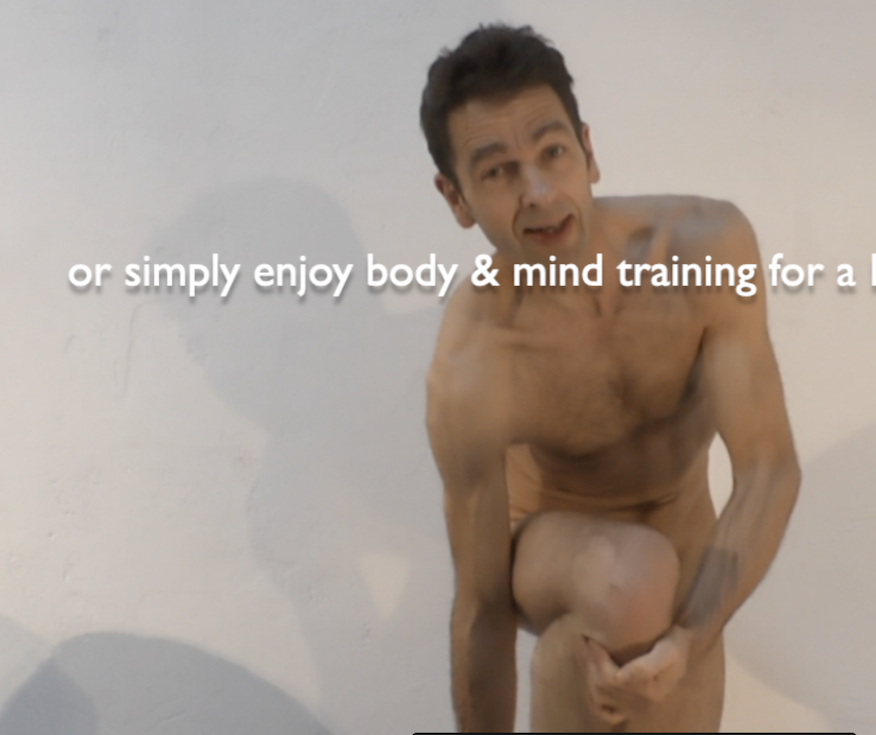 Exciting naked fitness for your body and mind...
There are so many things that you can get from a Naked Personal Training Session - just tell me what you'd like to get from your sessions - there's a lot to choose from!
Naked Fitness
Plus
Naked fitness is health & fitness stripped back to the raw us - plus our feelings and emotions too.
The more often you come the more I get to know you and what you want to get from your sessions such as:
increase fitness or lose weight.
get in touch with the inner you - explore your whole body with not just physical exercise but also your mind
enjoy being naked
enjoy training with a degree of sexual energy
enjoying unique fitness experience / training aims
With such different training aims and methods the extra sessions we have together are great - I get to know what works for you. and you get to try and develop whatever aspects you'd like. It may be that you want to concentrate upon one particular aspect or experience many - depending upon your frame of mind at any given time.
Your Two Free Sessions
You get ten sessions for the price of eight - use these sessions to really get what you want from your time with me.
45 Minute Sessions Nude:
single session £45 - Pre-paid £40
Ten sessions £320
90 Minute Nude Training Sessions:
single session £70 - Pre-paid £60)
Ten sessions £480
2 Hour Naked Fitness Training Session:
single session £80 - pre-paid £70
Ten sessions £560
Specialising in a whole range of men's health & fitness - so if there is anything that you would really like to improve or strengthen (or even lose!) just let me know and we'll have a go!
GP Referral Qualified Fitness Trainer / Nurse / Cardiac Care / Diabetes Care so there is not much that I have not had to deal with! 100% Confidential & Discreet
Two Free Naked Fitness Sessions
If you prepay for 10 naked fitness sessions it means you are committed to developing yourself in some way - either your body, mind or both.
I say mind as there is a psychological aspect to this training which encourages different energy and emotions, partly as a result of the nakedness, but also due to me getting to know what works for you - knowing how to draw this out of you or encourage within you! (I hope that makes sense!)
That is if you want to get to this level, it may be that you simply want to get fitter. Either way the ten sessions shows a commitment to your development and i'll play my part and encourage whatever aspects you show an interest in. Plus i give you two free sessions!  
Booking / Terms
1 year to use your sessions
Book sessions as you go
Then this is the crucial one -  as I plan my whole week around your booking and may have turned down other bookings:

Any booked session can be rescheduled if 72 hours notice is given otherwise the session will be forfeited.
Apologies for seeming so harsh but I can get messed around otherwise - I hope you understand. Any questions just ask!