Gay Personal Trainer.co.uk: Health Training for your body & mind to perform as nature intended - naturalistic nudity, purely to help men improve physical & mental health.

Stopping prediabetes with exercise
⚠️ Nudity Warning
It can be fun too - if you do it naked...
Plus this is a very effective exercise...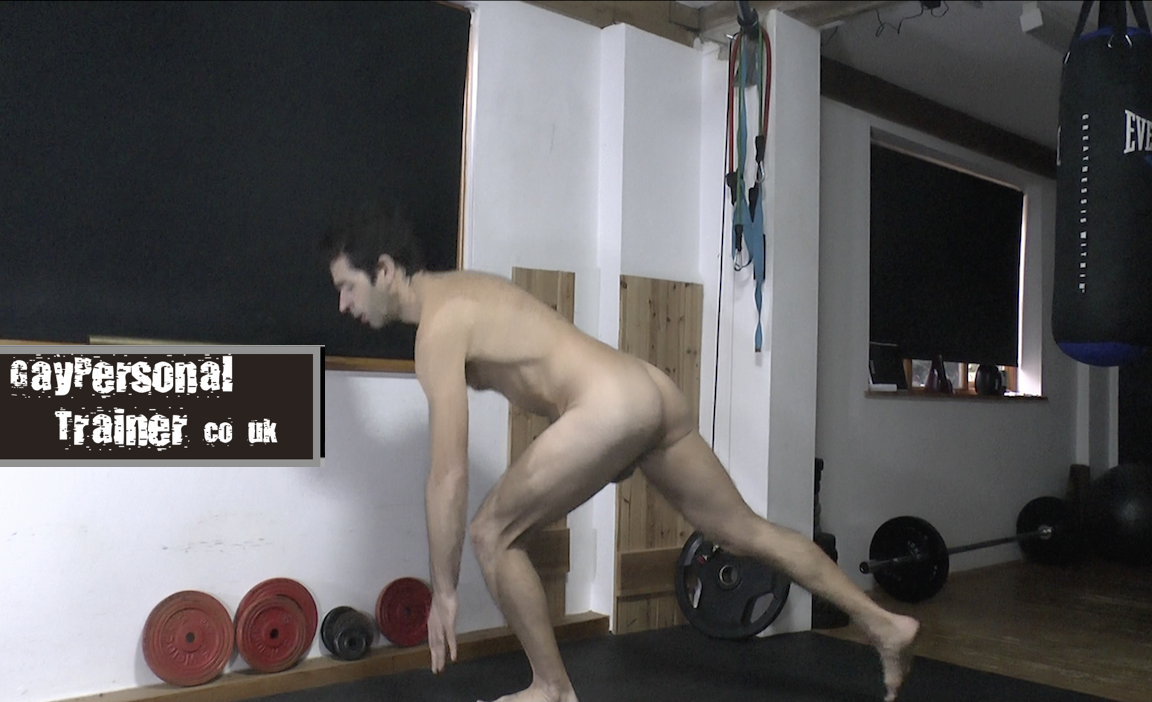 but there are many others to try..
A Personal Training Session with me...

will find a daily exercise that can help you lower your type 2 diabetes risk. Plus it can be enjoyable and freeing too!
Why I know this is so effective..
Stopping Prediabetes with Exercise and diet should be possible. Being a Personal Trainer I need to get my high blood glucose levels under control. i have had 3 weeks to try High Intensity training HIT.
It's my Birthday and therefore time to see if I high intensity exercise has managed to stop prediabetes becoming an inevitability. Three weeks ago a random test showed my blood glucose levels creeping up again – steadily rising to 5.9 which is 0.1 off the pre-diabetes level.
I really do not want to be in the pre diabetes group – especially as I know that much research demonstrates that type 2 diabetes can be reversed with lifestyle changes. If type 2 diabetes can be reversed – then I'm sure I stand every chance of reversing a near pre-diabetes. Some people may well be wondering why I'm so worried – as it's only pre-diabetes. My previous medical career involved meeting many type 2 diabetic patients and really hit home the suffering that this condition can inflict. Plus, I do not feel it is ideal for a Health & Fitness professional to have prediabetes when there is a good chance that it can be reversed with lifestyle measures. I therefore need to practice what I preach.
My three weeks challenge to stop prediabetes is finished.
I haven't done anything too drastic with diet – as I already have no added sugar, white bread and limit high GI foods so I really cannot do lots more, so it is my exercise regime that I am stepping up. The details of what I did are here.  I have this morning just taken a reading of my blood glucose levels to see if my intensive exercise regime has managed to lower them.
My Hopes for Stopping Prediabetes With Exercise
Three weeks is not that long – so I was prepared for the results to be poor – even though I secretly hoped for a dramatic reduction, I realised I must not get despondent. Being realistic even a slight fall in blood sugar levels would be good and would at least provide me with some encouragement to continue and hopefully stopping prediabetes becoming an inevitability in the increasing years. If the levels stayed the same then I would seriously have to re-evaluate my regime and re-evaluate the research for clues as to why I saw no results.
The Results
Three weeks ago – 5.9 mmol/L
After 3 Weeks of High Intensity Training – 4.7 mmol/L
This reading is far better than I could have hoped for in such a relatively short space of time. This has made my 50th Birthday full of optimism for the years ahead – that do not have to see a health decline. My body is still able to respond and adapt to a stimulus and for that I am extremely grateful. Age is not a barrier to gaining the health and fitness benefits of a healthy lifestyle – I really think the only barrier is attitude.
If I can do this – others can too.
My body is not unique and I am not naturally muscular or even extremely sporty – I really am Mr Average and if I can see results there is every reason you can too. I understand we all start of at different levels of fitness – but any improvements are all relative – and the improvements are also relative.
Help for You
If I can help you in any way – then please do feel free to get in touch – all my advice is free and you can ask it here. I'm not pretending to be a diabetes expert, but I do know how our body wants to improve itself if given the chance, so please do feel free to get in touch.
---
Don't like the gym?
That means you may like training with me!

They focus upon the whole you - your whole being - if that seems an odd concept, I may not be the trainer for you...

...if you're intrigued, then perhaps I may be of some use to you, your health, fitness and just possibly your maleness and sexualness - whatever that may mean to you.


Options

coming soon (last updated 30th April 2022)


I'm a specialist trainer with extensive medical knowledge– able to help manage and improve many health conditions

please feel free to contact me:

paul@malecoach.com



Research:
Professor Roy Taylor:

It has also been demonstrated that severe calorie restriction for an eight week period can successfully reverse type 2 diabetes. The details from Newcastle Magnetic Resonance Centre.
More Information regarding prediabetes from can be found here.