The Naked Personal Trainer & The Coaching

 for men 

Gay Personal Trainer.co.uk: Health Training for your body & mind to perform as nature intended - naturalistic nudity, purely to help men improve physical & mental health.

Want a Naked Personal Trainer

Here's one...

⚠️ Nudity Warning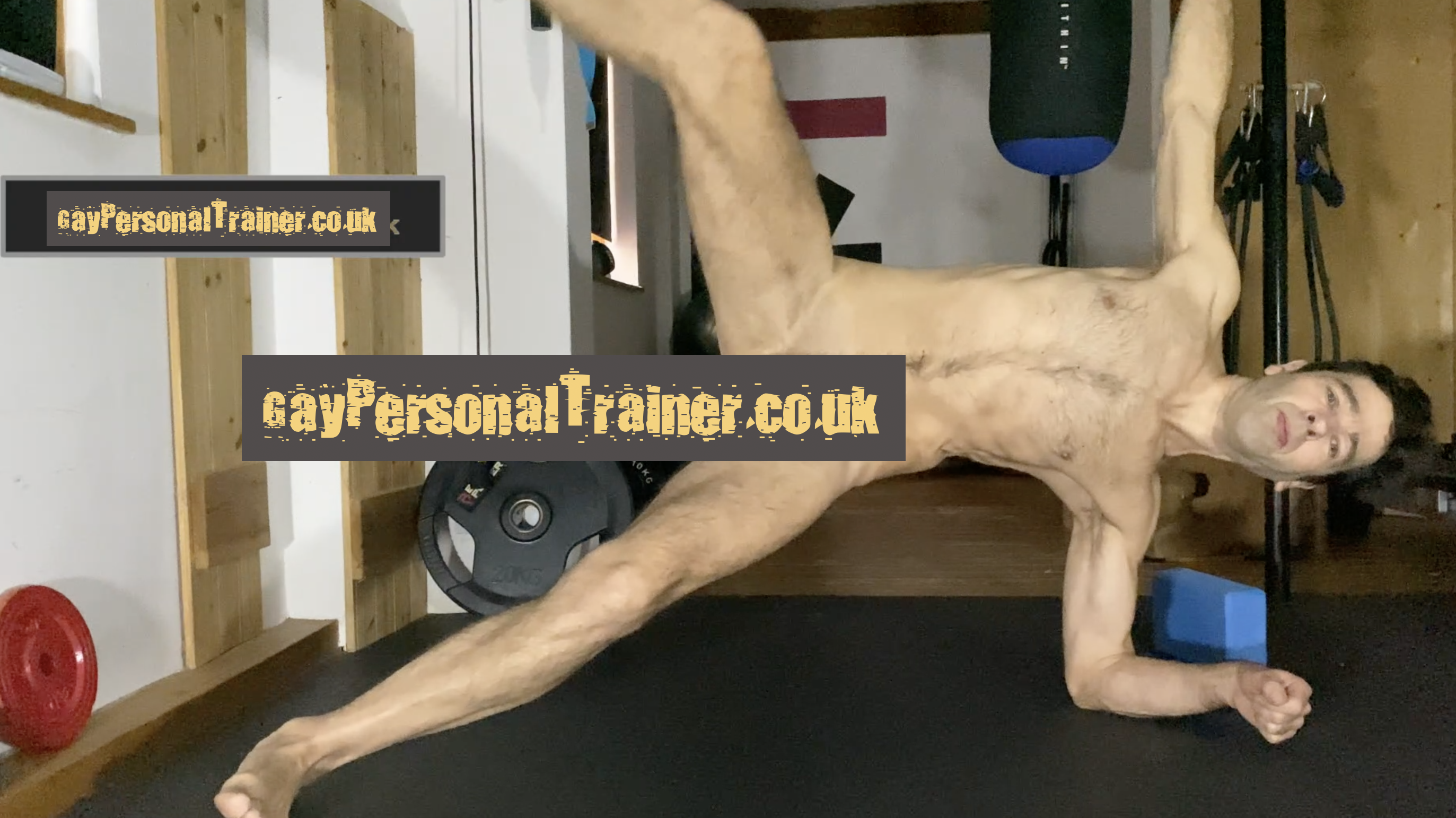 Click banner to remove it!
What do you Get when you...
A Fitness & Health Coach In the Truest Sense!
.....the Naked Personal Trainer

A bit older, also I don't have a perfect body - which may be good for you!

As you can see in the pictures at this site- I don't have bulging muscles, I exercise for health, fitness and with an aim to look as youthful as possible, which does include defining my muscles - but not to the point of risking my health - mental or physical!  Whilst I want to improve my body - I know its limitations and this is something that naked personal training has actually helped me with. it is proven to make us more body confident. I do know guys with bigger muscles than myself but less body confidence, which is why the emphasis on my coaching sessions are to celebrate how our body's function. I can definitely help you get bigger muscles - but not at the expense of less confidence - or your health! Happiness combined with fitness really does work wonders and that's what I'll aim to give you in our sessions!
Seriously... Exciting... Personal Training!

Serious - I am professional - using methods that are safe, natural & effective!
Exciting - Excitement, happiness and fun give maximum results! I could go on forever about why fun and happiness lead to better health - from a physiological and psychological point of view.
Naked Personal Trainer to help your mind body connection evolve into something great for your health and outlook.

The Naked Personal Trainer for you.....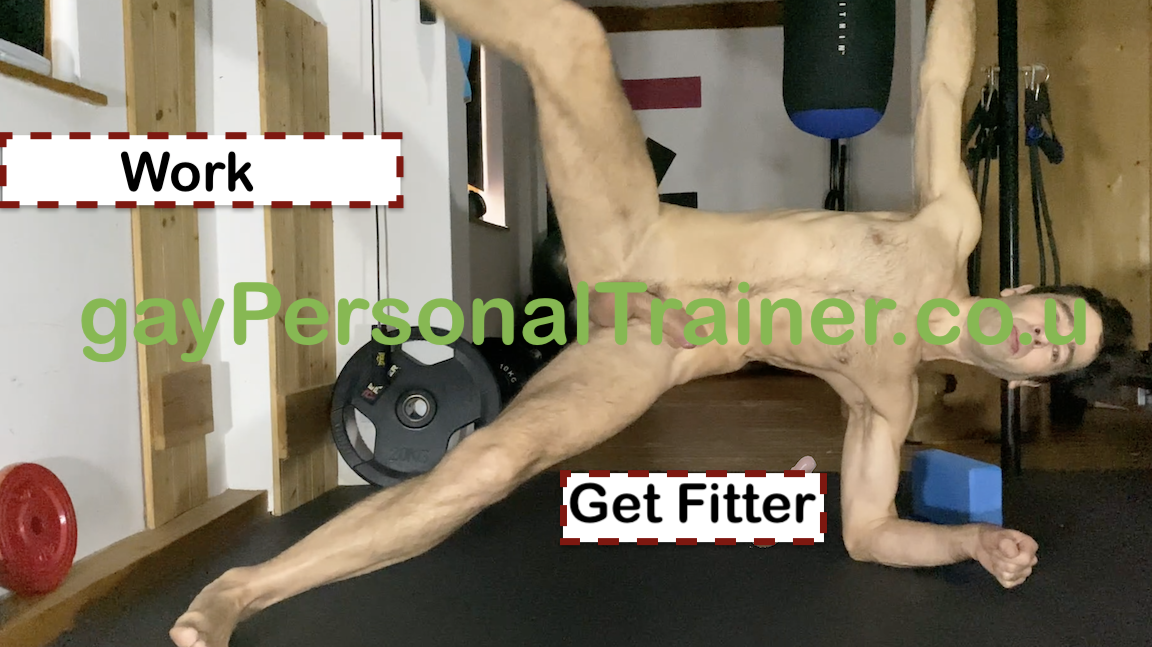 naked and connected - a naked workout is perfect for developing our mind/body/penis connection!
Can it be just a bit about Sex!
This can be the best motivator to get fit! We are all sexual and it does seem odd to me that we would not want to train to look after and strengthen all body parts that can help give us a more fulfilled life. All your body parts including your sexual organs rely upon the rest of your body to function. If one part of the system is weaker so too will sexual function. Both specific and general exercise will all help sexual function and your whole body.  This can be the best motivator to keep you exercising and living a healthy lifestyle for the rest of your life. Sexual Energy in Training

We all need a reason to exercise!
No Sex Please - I'm a serious health & fitness coach.
This is unconventional training but I am not a sex worker or promiscuous!!  - it is serious coaching albeit for possibly some more intimate regions of your body, but there are no sexual acts involved. However sex and training are interlinked - sexual emotions can be harnessed and used as motivation to train harder. I am coaching your body to be functioning at it's optimum - to have a really good time after your training session in the future, not during. Though the training session will be fun and enjoyable it is just coaching so please do not expect anything more. If you feel sexual with your exercise - brilliant - I am there to facilitate that not to participate in though!
---
New fitness Experience with the naked personal trainer?

If you'd like a different fitness experience then you can simply enjoy working out naked with me. This really does give a different fitness experience where we can try a whole range of different exercises such as:
Bodyweight Exercises - that you can do anywhere with no equipment. These can be challenging, fun and when naked quite nice too.

Plyometric Moves - really shock the muscles to strengthen



Balance - carrying out exercises standing on one leg require balance & strength
Flexibility & Stretching - a few stretches at the end of your workout.

If you want more conventional:

Free Weights - dumbbells, barbell or anything heavy!
Resistance Bands - a few simple bands that you can easily use at home.
Boxing, Kicking - Punch bag & pads
or specific Fitness/Body Improvements

I find out exactly what you want to achieve, and give you some options of how you can best accomplish this, because I specialise in Erection Kaizen I often borrow some training aspects from this - purely as its a great motivator - but no erection is needed! Before we meet I ask you questions about what it is you want to gain - such as improving specific fitness or health.
Your Age - 18 to 100+

Whilst you do need to be over the age of 18 there is no upper age limit. However old you are it does not matter. What matters is if you want to either improve your body or slow down the rate of decline (that inevitably happens to us all!) If you want any one of these I can help you - age is just a sometimes an irrelevant number and sometimes just a state of mind!
Personal Training Clothed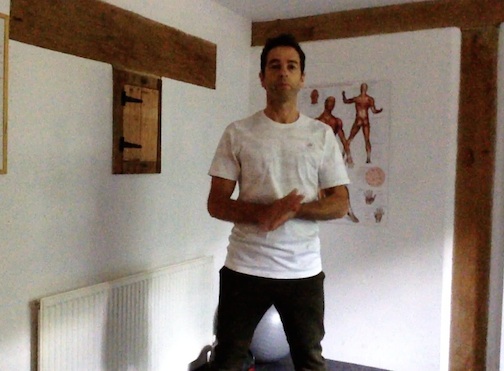 Workout Clothed
A naked fitness experience in the sense of stripping the workout back to the raw essentials to give a focus upon your body rather than machine settings! Exercise stripped back to the raw essentials.

We need no equipment -  This brings about a greater awareness - encouraging you to really connect to your body.
The gym or training room (wherever that may - be as I can visit you) is naked - bare of equipment. This means your fitness workout can be done anywhere and is not reliant upon you going to the gym, giving you sustainable fitness that really works. No hi-tech equipment means your sole focus is upon stimulating and improving your muscles, not machine settings.
---
Personal Training Naked

Working out with the naked personal trainer transforms a workout into a fitness adventure!
Strip away the barrier of clothes and it really is just you and your body – and a connection that gives a greater focus to stimulate specific muscles, and proven to help our confidence in normal everyday life... Naked Personal Training - proven to produce superior results.
Plus nude workouts provide a different experience - capable of invigorating any existing fitness plan or indeed inspiring you to take one up!
More About Naked Personal Training
Unsure about going nude? 
...just dip your toes into a more exciting way to get fit and be partially clothed!  There is no pressure to get naked - even exercising in our underwear is liberating - bring about this greater connection to our working muscles.
Confidentiality

You're assured of a completely confidential and discreet service. I never discuss clients or training details with anyone.

More about Confidentiality
About: The Naked Personal Trainer!

My own personal workout routine is for health as much as anything else. I am not obsessed about my body and I am not totally ripped. I just try and look okay for my age. Plus, it's in good enough shape so that when we are training, you can see the muscles that are stimulated in each different exercise.  To stay in some kind of reasonable shape whilst having a busy life is made possible with lifestyle training - it is all simple and natural.  
The Effects of Age: The Older Personal Trainer may know more about what your body needs!
The Naked Personal Trainer - a Professional Service

If you're really interested in knowing your in safe hands then read on
...or just look at the picture, this is the atmosphere I aim to get in naked training sessions.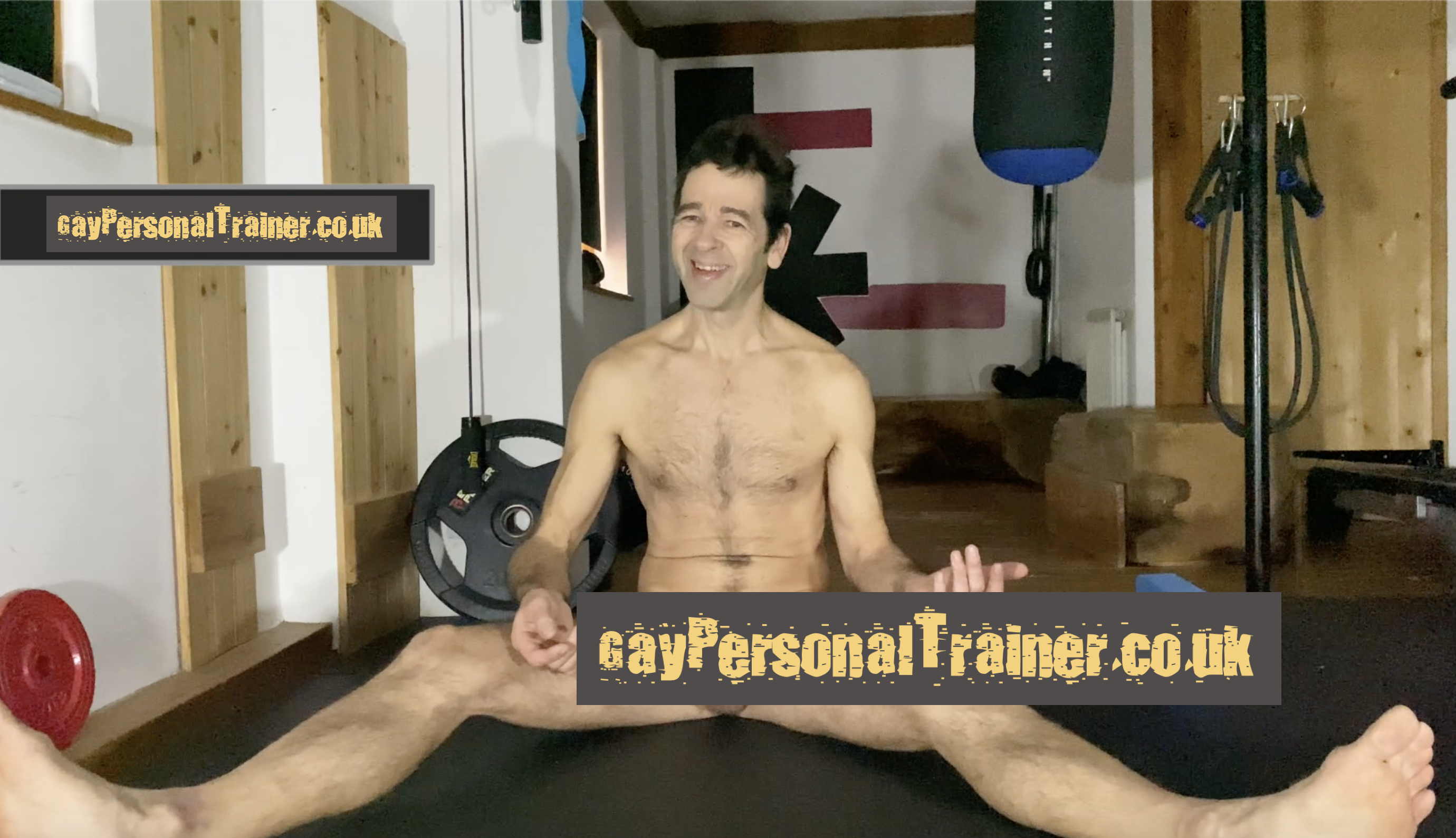 here to facilitate, a good workout for you.
I am qualified and experienced in both the fitness and the health sector.  You are assured of a totally professional, yet friendly service from the Naked Personal Trainer. The naked personal trainer for men is qualified in:
Advanced Gym Instructing
Personal Training
GP Exercise Referral
Adult Nursing qualified at University of Hertfordshire & through NHS (Specialised in coronary care, diabetes care and orthopaedics)
Nursing Experience includes specialist hospitals: Papworth Hospital, general hospitals: Bedford & Lister plus in the private sector: Pinehill 

* All fitness industry qualifications are recognised by the Register of Exercise Professionals. Also qualified in Nutrition and Weight Management plus Health, Fitness and Lifestyle Analysis
plus the health service from the naked personal trainer

---
The Naked Personal Trainer with EK Training

Means there are no surprises when I advocate less masculine forms of training such as mindfulness and salads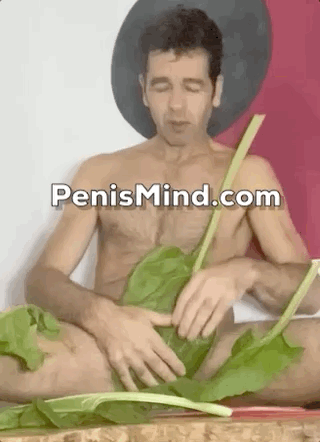 Want to see under the leaf - what eating it does?
which really boost results! However you also get the added option of a naked personal trainer!
But this really works and boosts any results from fitness! The Gay Personal Lifestyle Training is totally unique, and all about getting you the results that you want. There are so many ways that we can improve our body and general training will give general mediocre results at best. Gay Personal lifestyle training is specific and targeted training that will get you results. Having a gay personal trainer means you really can ask for any specific improvement - and the chances are - i will be able to help you. Gay Personal Training involves improving your lifestyle in an individually targetted way and you'll love what it can do for you - it really can change your life.
More About How the Naked Personal Trainer can help you.

Keeping It Real With A Gay Personal Trainer!

I will always aim to ensure that you love your body as I believe we should never become obsessive over our body as that is not always healthy for our mind. I will also never encourage any unhealthy means to alter your body shape. Whilst it is okay to want to be in good shape, we also need to be aware of who we are doing it for.
Most other aspects of personal training such as improved health are undoubtedly to enrich our lives, and changing body shape, can definitely make us feel better about ourself, but it must be for us and not because of the pressures of society.  If anyone should have a totally ripped body, it should be a gay personal trainer - and I do not. But I do what I do for me, and my body is in good enough shape for the people I train to see my muscles working - able to provide the proper information about how our anatomy works, and what exercises strengthen which muscles. Therefore my body is in good enough shape for my age, to do my job, and to be healthy.
Some may think that I should be more ripped, but I really do not care! Whilst we all want to look good, this needs balancing with both our physical and mental health and the pursuit of the body beautiful is not always good for either of these.  I will always help you to maintain balance and above all help you to appreciate your body for all it can do, and not succumb to the pressures of society.
---
If you have any questions or would like to discuss this with me further then please feel free to get in touch, as I am passionate about this subject - the pressures that social media places upon us. However we can be strong and not be drawn into this sometimes fake (and occasionally unhealthy) world of trying to attain the body beautiful.
Exciting & Enjoyable
It's a must - you really have to enjoy it otherwise, unless you are very lucky and have bags of determination, you'll just give up your new found fitness regime. Even if you think you don't like exercise, with so many different types to choose from there is going to be some exercise that you will enjoy a bit. But if it turns out that you really don't enjoy any exercise, then there are two other ways that we can gain enjoyment: 
A Natural High - We all get, to varying degrees, a post exercise high – you won't just get tired but you'll also feel good. This proven Natural High is something that I'll talk about a lot more and will at least mean some enjoyment, at some stage.
I guarantee that you will enjoy seeing and feeling the results. The results are so important, as this for most of us is the sole reason for exercising. When results are seen and realised, this provide greats motivation to continue and actually enjoy working through your training plan.
There will be so many different things that people look for in a personal trainer – having a naked personal trainer gives you more options of enjoyment and having the added benefit of a gay personal trainer, may help some feel more comfortable and less inhibited. However no matter who I train - my main focus is enjoyment. This is the quickest way to improving your body for life!
If you have any questions you can contact me: Naked Gay Fitness Trainer


All Methods Tried And Tested

Everything I encourage others to do I have tried. All the self help in the Erection Training section has really helped me - and if I'm really honest has along with the fitness side of things really changed my life - I feel better than I did 10 years ago and rather than thinking of age as an inevitable decline - I am now thing of it as getting fitter and stronger than ever. It is harder to do than when I was in my twenties but it is more rewarding.
I am also passionate about sharing this knowledge that I have discovered. If I can help you in any way - please do get in touch.
More Information about Naked Personal Training

Health Benefits - The Great British Skinny Dip

Happiness - Being Naked Makes Us Happy
Don't like the gym?
That means you may like training with me!

They focus upon the whole you - your whole being - if that seems an odd concept, I may not be the trainer for you...

...if you're intrigued, then perhaps I may be of some use to you, your health, fitness and just possibly your maleness and sexualness - whatever that may mean to you.


Options

I'm a specialist trainer with extensive medical knowledge– able to help manage and improve many health conditions

please feel free to contact me:

paul@malecoach.com

Where